My sister Christine was a remarkable person and the envy of everyone. I called her, "Chrissy". Chrissy was one of those people everyone wanted to be around. She was nine years older than me, and was like a second mother to me more than just a sister.
We grew up together in San Leandro California , ( Oakland-SF Bay area) in a middle class neighborhood. Chrissy went to live with my grandmother in San Antonio Texas when she was 16 and I was seven years old, so I really never saw much of my sister after that.
In 1969 at 19, my sister met and married a musician/songwriter, Carl Barnwell, with a British rock band called, "Mathews Southern Comfort."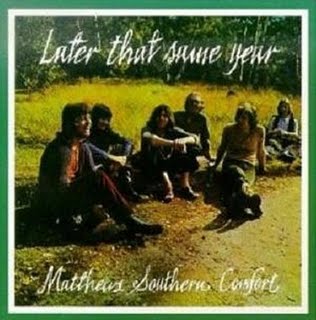 Chrissy lived in an apartment in San Francisco for a short time and I visited her on occasion. The rock band suddenly shot into stardom with a rendition of a Joni Mitchell tune entitled, " Woodstock ", after the event in 1969 in Woodstock New York . Listen to the song and video. This version of the song was #1 in Europe for some time and on the top 10 in America! It is often considered the theme song for the Woodstock event.
The band's popularity was so sudden and intense the band's founder, Ian Mathews, bowed out of the picture, and the group renamed itself, "Southern Comfort." They adopted the logo from the American South's Whisky, "Southern Comfort", and began a world tour as the sole opening band for ROD STEWART !!! My family went to see them perform at the University of California Berkeley in Berkeley California in 1972.
While at that concert we had an usual experience that the story even made it into Readers Digest! The concert was put on by a concert promoter named "BILL GRAHAM". Obviously he had no relation to Billy Graham the evangelist! But here comes in 30+ of my family and my Brother-in-law's family dressed in suits and ties to a ROD STEWART concert!!! Visualize That!!! Well, one of the promoters associates was so concerned about it he rushed up and exclaimed, "THIS IS NOT A BILLY GRAHAM EVENT"! After we got off the floor from laughing so hard we reassured him it was ok!
My sister used to take me ice skating, took me sailing on Lake Merrit in Oakland California, took me to Fillmore West, and the Avalon ballroom in San Francisco, attended outdoor concerts, took me camping, and wrote me whenever she could.

After the world tour with Rod Stuart, the band Southern Comfort returned to London England and did like so many one hit wonder bands do. They faded into obscurity. While attending University classes, Chrisy worked at Harrod's dept. store in London, selling Cartier jewelry. My sister lived in London for over 14 years, obtained a bachelor degree in fashion design, and ultimately divorced the man she married in 1969.
My sister, like many Europeans, vacationed in Greece , and found a new love interest. He was a merchant seaman on a Greek freighter called the, "Sea Lion." It was owned by Greeks, but registered in some Central American country to avoid taxes. They also hauled embargoed American grain to forbidden countries like Libya . My sister lived on the ship for a year with her husband Yiorgos, or George, in English.
Chrissy spoke with a soft english accent that started to fade after years of living in Greece. Greece is a country I can succinctly describe as an "Acquired Taste". Outside of the tourist areas, the normally hospitable culture can be rather disturbing. It's mainly little things, especially bothersome to Brit's, and Americans, but to summarize it I can say that quite often it is taking a lain back attitude to an extreme, even macabre or bizarre. For example, there are dozens of strikes that happens for God knows why at the strangest times when it is least convenient. Most memorable was the garbage strike in Athens when I took my wife to visit. Garbage was stacked up in piles 5' high on EVERY street corner that had not been picked up in weeks. The thing is you can't flush toilet paper in Athens so they have little baskets by the toilets! And that goes in the garbage! We left the city for some solitude in the country at some friends vacation house in Halkitha alongside the Aegean sea. Then we moved on to another vacation house in Corinth some friends had there.
I can visualize how a tourist could come to Greece and get an entirely different view of Greece. My sister told me she had three friends from England come visit on different occasions that had mental breakdowns because of culture shock. By American and British standards, one immersed in the culture without preparation can find it deeply unsettling. I have vivid recollections of the Dalmatian dog in the back of a pickup, skinny to the bone and shaking, with several dead puppies by her, and others wanting to be fed but she was too weak. As I stood there with my mouth open scarcely comprehending the sight, the Greek couple just motioned at the back of the truck and said in Greek, "Stupid dogs". This is worse than anything Animal Cops TV show in America has...
. This behavior is very puzzling to me, because Greeks are normally very loving and caring! ! For example, you would think for modesty sakes and perverts that public restrooms would have closed doors. Well the last time I was there at the train station the 6' door to the men's room was WIDE open and the men whipping their equipment out on the Urinals right in FULL PUBLIC VIEW! I was frozen in astonishment only to be woke out of that state when a woman inside selling pieces of toilet paper motioned me to come on in!
Greeks seem to have a morbid curiosity about death and in Athens especially are usually frowning. Not all Greeks are that way, but there's enough to unnerve you if you stay long enough. I am blown away by the love and kindness of Greeks, but equally blown away by their strange attitudes. Be sure to see my page on the Good, Bad, and Ugly in Greece. If you believe nothing else I say, believe this; MAKE SURE YOU HAVE HEALTH INSURANCE SPECIFICALLY FOR GREECE BEFORE TRAVELING THERE! After visiting no less that a dozen hospitals in and around Athens, the only thing I can compare them to is a horror movie. It makes the hospital in the movie, "The one who flew over the Coo coo's nest", look like a resort hotel! The doctors are well trained and nice, but that's where it ends. I have heard the private hospitals are nice.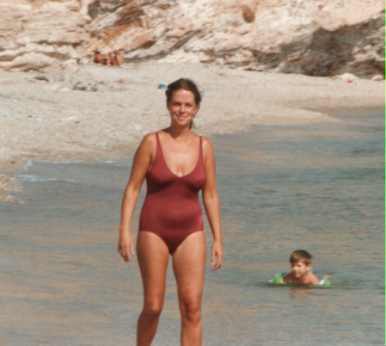 They moved to Athens Greece and lived there until she passed away in 1998 of breast cancer. She is interned in the mountain village of Koromilias, home of my brother in law. Chrissy legally adopted her husband's son. Demitri now holds both Greek and American citizenship. Chrissy had a love for animals and had exotic parrots, and a pet monkey she bought while in Africa. I built a large cage for the monkey named, "Antoinetta." Chrissy's home was always filled with friends and visitors, in stark contrast to a typical American home. My sister would often cook dinner for 6 or more guests at the evening meal, something she loved to do. She was a gourmet cook before she moved to Europe.
My sister had little money, but attracted people with great wealth for friends.
One of many times that I was in
Greece
visiting her she tells me we are invited to a cocktail party. Hummm… A cocktail party? I don't drink, but I'm curious to see what it's all about. I knew she had wealthy friends, but they were mostly Greek, which made it difficult for me to judge importance. So a taxi drops us off at this Villa overlooking the
Mediterranean Sea
on a high bluff, expensive by anyone's standards, and my mouth drops open at this palatial house. There are all these waiters waiting hand and foot on you, and all these high class suit and tie executive types, and women with evening gowns priced way up there! I did wear a tie, but all I had for shoes was my sneakers. I spent an inordinate amount of time hiding my feet under tables!!! The first man that came up to us to introduce himself besides the host and hostess, was the Irish ambassador to
Greece. Gulp, I'm in the wrong crowd! The whole evening was like something out of a James Bond movie. If I put an olive pit in an ash tray, suddenly out of the shadows, a waiter would dash out and scoop it up and wipe out the ash tray!!! I was scared to move!
Chrissy showing "Antoinetta" to gypsy children living in tents near a village.
My sister Christine taught Sunday school and loved children, but most notably was a servant to all people. "She was a giver."
My sister's life was a major adventure beginning to end, I, wish I could have been more a part of it.
A "Born Again" Greek Orthodox, like my sister Christine was, are those who are Baptized into the Greek Orthodox faith but have also embraced fundamentalist Christianity. Kind of like the pope marrying a protestant. An unlikely marriage to say the least, but for my sister was one that worked.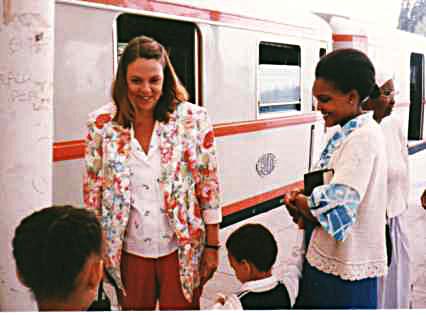 My sister attended the Hellenic International Fellowship located in Athens Greece. Though members hold a great deal of respect for certain Orthodox beliefs, but they are very open about their faith in and love for Christ. Services gush with expressive joy in Jesus Christ and active celebratory worship. Call them "Out of the closet Christians."
They hold to a literal interpretation of the Bible with biblical principles ruling their lives. Their love is genuine, as for a year and a half as my sister was sick with cancer, members would come to her home and do chores for her. While lying in the hospital dying, members from her church stayed with my sister 24 hours a day in her room. This was the book of Acts in the Bible revisited.
--------------------------------------------------------
In 1986 my sister and I started a Greek Import business. We had two retail stores that we had for 3 years. It was a lot of fun, and we met some interesting people along the way!
Video of my sister and other things in Greece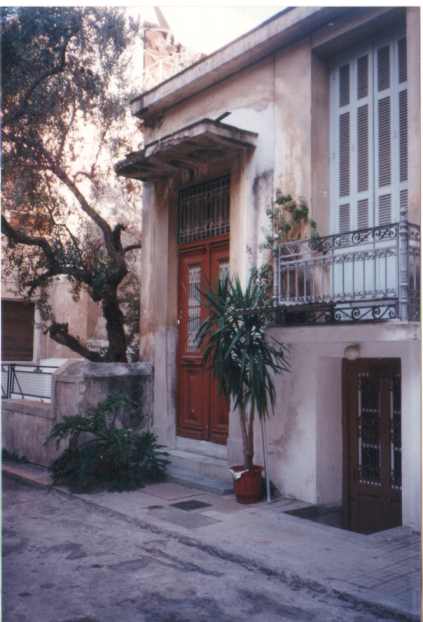 My sister's home in Athens Greece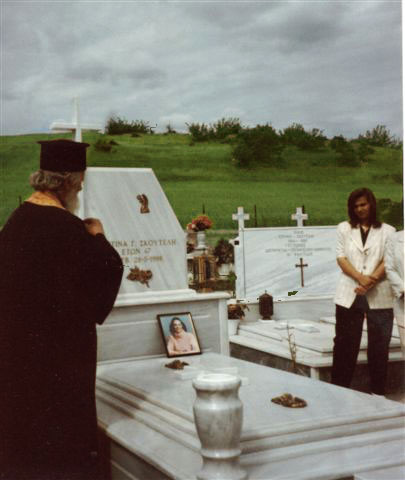 Chrissy's final resting place. Koromilias Greece.
Village of Koromilias Greece - Cemetery in top right corner of photo